Tresa's Stuffed Hot Cocoa Ornament – DIY Ornament #16
Time for a treat on Day #16 of 30 Days of DIY Designer Ornaments. Most of our 30 Days' ornaments are original creations for HomeWorkshop.com. But when I spotted Tresa Edmund's cozy Christmas confection, I knew I had to share a cup with you.
I love the warmth of the wool felt, the calming color combination, and the funky dollop of whipped cream. And especially how the mug handle becomes the ornament hook.
The steps are easy-to-follow, including simple sewing. Check out the full instructions–including a printable pattern–here.
Tresa Edmunds makes fantastic things over at Reese Dixon.The Hot Cocoa is part of her Christmas Sweets-themed series. You really must partake in the rest: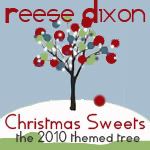 Thanks to Tresa, and thanks to Rachel at One Pretty Thing for tipping me off.
It's been a yummy visit with you on Day #16 of 30 Days of DIY Designer Ornaments. Next time, a touch of elegance….
Help spread the word
about HomeWorkshop.com's
30 days of DIY Designer Ornaments
!
Put this 125 pixel-wide button on

your blog or Web site

using the code below.

Write a post

about it — contact kathy@homeworkshop.com with any questions

Tweet

about the event and your favorite of the 30 projects
Post links on your

Facebook wall

Email

your friends
Put our button on your site!
Copy the code below: